Search for your artists here. We'll find them for you!

| | | |
| --- | --- | --- |
| | | |
| | Recently Updated | |
| | | |
Testament Sign to Nuclear Blast - Monday, July 23, 2007 at 00:02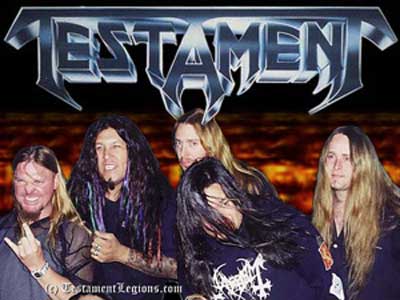 It's official! Heavy metal legends Testament have signed a contract with Nuclear Blast Records (home of Threshold, Sonata Arctica, Dimmu Borgir, Soilwork, Blind Guardian and other extreme metal gods) to produce an all-new Testament CD. The deal was signed live on stage at the Earthshaker Festival in Germany.

"This is going to be our best record to date, and it will be the essence of what Testament is. Nuclear Blast is the perfect label for us. They eat, breathe and sleep, metal. I am excited also because a lot of my favorite bands are on Nuclear Blast, giving us the opportunity to be label-mates with them. Finally we are coming home!" stated Eric Peterson

As if a new CD and a new label weren't enough, Testament is back to its original arsenal of members. Eric Peterson, Alex Skolnick, Chuck Billy and Greg Christian are joined by their biggest surprise yet: the addition of drummer Nick Barker (formerly of Dimmu Borgir and Cradle of Filth.) Nick Barker is one of the most fast, furious and punishing drummers in today's heavy metal scene. The Barker-Testament team will produce an album that should be nothing short of ground shaking.

Search the world for your music!


No Dates Found