Queensryche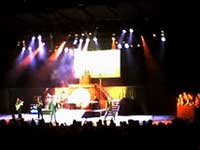 Queensryche at the Gibson Amphitheater, Los Angeles, CA , 10/05/2006
Musical Genre: Progressive Metal
Formed: 1981
Queensryche Formed in 1981 in Seattle, WA. Originally called The Mob, they changed their name when they released their first EP,
Queensryche
. They followed it up with
The Warning
and
Rage For Order
, but their huge success was in 1988 when they released
Operation: Mindcrime
, a concept album that's been compared to Pink Floyd's
The Wall
(although unlike
The Wall
, at least in my opinion, you don't need to be on drugs to understand the storyline;).)
In 1990, they released
Empire
, which was a huge commercial success and had their first Top 10 single, "Silent Lucidity" (although I personally always preferred "Jet City Woman," another hit from the same album).
They took a break and then released
Promised Land
in 1994, along with a CD-ROM Myst-style game and multimedia CD-ROM which was a great example of what could have been done with enhanced CDs if the record labels were willing to spend the money (alas, they weren't, and all you're likely to see now is the occasional video). The album itself wasn't nearly as much of a success (although it contained the great song "Damaged") and was the start of a downward slide in popularity for them.
In 1997 they released
Hear in the Now Frontier
, which a lot of the fans were not happy with, and then Chris DeGarmo left the band, making the fans even more unhappy. He was replaced by Kelly Gray for one album,
Q2K
. In 2003 Chris DeGarmo returned to the band (at least part time) and recorded
Tribe
with them, although they still couldn't seem to please their fans. They also performed in a great tour with
Dream Theater
and
Fates Warning
, which was great because not only did you get to see three great bands play together, but band members from one band would appear with other bands, and they ended each show with a few songs played by members of all three bands on stage together!
In 2004, Queensryche announced that they were recording a followup to
Operation: Mindcrime
and the response was amazing! They went on tour playing the entire first album live with actors and videos to tell the story, and for the first time in years they were really packing in the fans in the big venues! They even brought along the original Sister Mary, Pamela Moore.
In 2006,
Operation: Mindcrime II
came out. It finally answered all the questions from the first album, and wrapped up the storyline, and was a great album. Ronnie James Dio appeared as Dr. X on the album. They toured again with Pamela Moore and other actors to perform
both
albums in their entirety, and once again packed in the fans for these great shows. One of these shows is now available on CD and DVD as
Mindcrime at the Moore
.








#Queensryche on Undernet IRC

#Queensryche on Efnet