Asia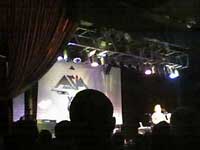 The Original Asia lineup reunites at the Canyon Club in Agoura Hills, CA.
Musical Genre: Progressive Rock
Formed: 1981
Asia were formed in 1981 after John Kalodner introduced
John Wetton
and Steve Howe. They were joined by Carl Palmer and Geoff Downes, and they released their first, self-titled album in 1982, which instantly became a huge hit here in the United States, the #1 album of the year. 'Heat of the Moment' and 'Only Time Will Tell' were both hits.
In 1983 they released
Alpha
, with the hit 'Don't Cry', but the album didn't do nearly as well as the first one. This may have been part of the reason (never fully clear) why later that year John Wetton left the band, and Greg Lake joined up for the hugely publicized 'Asia in Asia' show that was broadcast live on MTV. John Wetton eventually came back to the band and Steve Howe left (there were rumours of problems between the two of them), to be replaced by Mandy Meyer, and they released
Astra
in 1985, a sadly underappreciated album that deserved to do far better than it did.
After that they took a haitus for a while until 1990, when they got back together (with Pat Thrall replacing Steve Howe) to record
Then and Now
and to tour extensively, and one of the shows was released as 'Live in Moscow', with one studio track, 'Kari-Anne'.
After that John Wetton decided to focus on his solo career and everyone pretty much went off their separate ways, but Geoff Downes decided to resurrect Asia with with John Payne on bass and vocals, beginning with the album
Aqua
in 1992. They continued to release albums with various lineups (the only constants being Geoff Downes and John Payne), even after a preposed reunion of the original lineup in 1999 fell through. Finally, in 2006, a reunion tour of all 4 original members was announced, and Geoff Downes and John Payne officially announced that they were dissolving their partnership.