Search for your artists here. We'll find them for you!

| | | |
| --- | --- | --- |
| | | |
| | Recently Updated | |
| | | |
Rock Fest 2007 Starts Tomorrow! - Thursday, July 19, 2007 at 00:16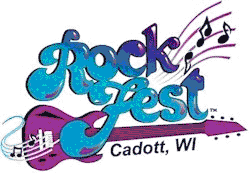 I never thought I would wish to live in Wisconsin until now. Rock Fest 2007 kicks off in Cadott Wisconsin tomorrow and will blaze a furious path day and night through Sunday July, 22.

This four day event is packed to the teeth with new rock phenoms like Godsmack, Fuel, Three Doors Down, Saliva, Hinder and Third Eye Blind. As if that werenít enough, Rock Fest 2007 will also showcase legendary rock and roll icons such as Kiss, Deep Purple, Grand Funk Railroad, Govt. Mule, Tragically Hip and Collective Soul.

Camping is open to all Rock Fest attendees. In fact, campers have been staking their claim and setting up their tents since this past Sunday. Security has gone into effect since Tuesday, and thousands of fans have been getting ready for an insane four days of non-stop rock all week long.

Rock fest is an annual event that never fails to give its spectators more than they bargained for. Past Rock fests have been home to such legends as the Guess Who, Lynyrd Skynyrd, Bad Company, Blue Oyster Cult, Ted Nugent, Robert Plant, David Lee Roth, the list goes on and on.

Tickets for the event cost from 140.00 to 160.00 dollars for adults and 80.00 for children for the full four day pass. Alternatively you can purchase one day passes to the event for 70.00-80.00 dollars adults, 40.00 for children. If you have the means, I highly recommend making it out. Itís going to be quite a show!

Search the world for your music!


No Dates Found